METFORM CORPORATION IS ONE OF THE EMERGING PART OF THAKKAR GROUP, takes pride in being a high performance organization providing world class services & Components which forms the part of Pre Engineered Metal Building.

Pre engineering Metal Building is Managed by highly efficient and dynamic team of employees & is growing Day by day.

In house tools and Structural Design facility to meet customers demand for technical accuracy, quality & Durability

PRE-FAB has the experience and know-how to meet tough building challenges. interiors with wide open spaces, unusual ceilings heights and extreme load requirements are computer engineered to your exact needs.

Computer analyzed and tested, rigid frame design provides the most economical means of transferring loads into foundations. Lightweight, High strength steel allows structural components to be easier and less expensive to assemble. Further savings are realized through built-up plate technology.

Mezzanines can be added for office areas, classrooms or storage space, and to maximize land usage, structures may be multi-storey.

Whatever your requirements, be it a single building or diverse complex, PRE-FAB metal buildings can meet them with style, speed, economy, function, adaptability and above all proven engineering
Pre Engineered Metal Building are Requirement of 21st century because

It has Low initial Cost

Use of light weight roll formed secondary members i.e Sheeting ,Purlin & Decking reduces the weight of structure which in turn reduces civil cost .

Superior Quality

All components are factory made,manufactured under stringent quality control.

Fast Project Construction

Anchor bolts can be delivered earlier to enable the construction prior to delivery of the building.Functional Versatility Modular Construction,clear span up to 60m & Eaves Height up to 25 m.
Architectural Flexibility

Aesthetic features such as fascia, parapet,& flashing greatly enhance the appearance

Low Maintenance Operating Costs
Prefabricated Building Structures / PEB's installed at a location in Mauritius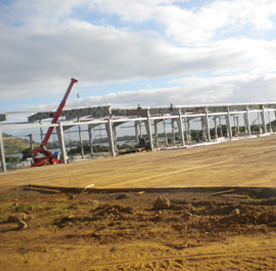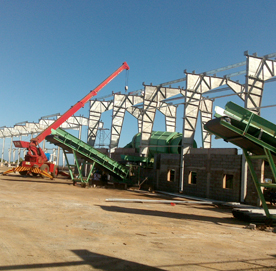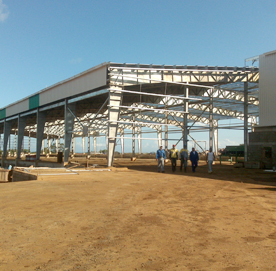 Virtually no maintenance required for roof & Wall panels, water tight roofing System & Energy efficient roof & Wall System are field insulated hence power usage reduce to a great extent.
Repeatable design is a key benefit in prefab buildings. The prefab office building process starts with the assembly of a wood, steel and concrete or 100% concrete frame. Prefabrication is the process of building components or modules to be build in the factory or manufacturing site and then it is transported the modules or assemblies to the site. Prefabricating steel sections reduces on-site cutting and welding costs as well as the associated hazards.
Prefabrication saves engineering time on the construction site. Detached houses, cottages, log cabin, etc. are also sold with prefabricated elements. We are one of the growing industries of Prefabricated building structures that are high on demand by our clients based in Mumbai and various parts of India.